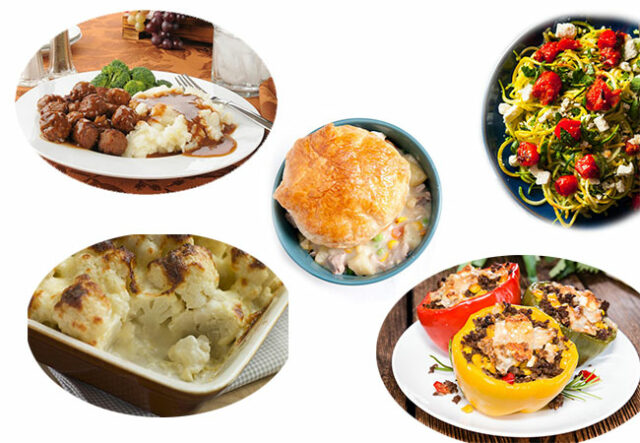 We all know how we feel at the end of a long work day – regardless of whether that work has happened in the office or in the home with children, family, and chores.
The very last thing you feel like doing what's your day has reached an end is more work…
… and making dinner can definitely feel like work at times.
That's why, this week, I want to give you 5 low-carb dinners you can quickly make without feeling like you're slaving away in the kitchen for hours.
All five of these meals are ready in under an hour, and they are all kid tested and Mom approved.
Even picky eaters should find something to eat.
Without further ado, here are the recipes.
Recipe #1: Cauliflower Mac And Cheese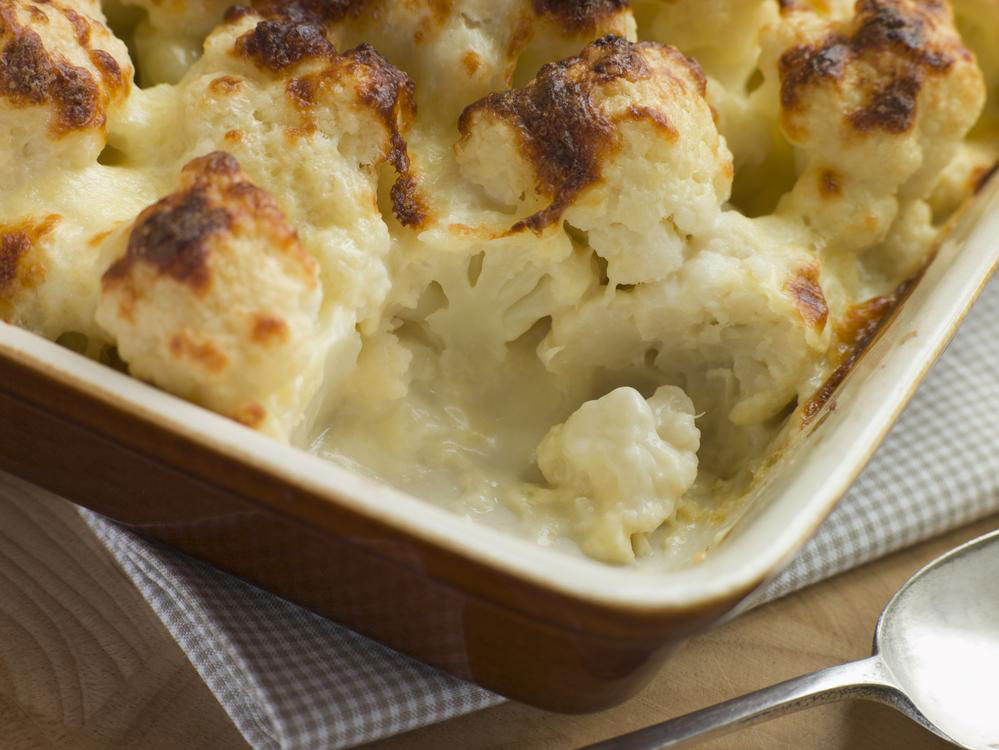 With only 5 minutes prep time, this meal is a winner for your time management and for your taste buds!
It's also low-carb, so it won't mess up your diet.
Ingredients:
1 head Cauliflower (cut into small florets)
3 tbsp Butter (divided into 2 tbsp and 1 tbsp)
Sea salt
Black pepper
1 cup Cheddar cheese (shredded)
1/4 cup Heavy cream
1/4 cup Unsweetened almond milk (or any milk of choice)
Instructions
Preheat the oven to 450 degrees F (232 degrees C). Line a baking sheet with foil or parchment paper.
Melt 2 tablespoons of butter. Toss the cauliflower florets and melted butter together in a bowl. Season with sea salt and black pepper to taste.
Arrange the cauliflower florets on the prepared baking sheet. Roast for about 10-15 minutes, until slightly crisp-tender.
Heat the cheddar cheese, heavy cream, milk, and the remaining tablespoon of butter. Stir often. Heat until cheese mixture is smooth/creamy. Be careful not to overheat or burn the cheese.
Toss cauliflower with cheese sauce immediately before serving.
Recipe #2: Philly Cheesesteak Stuffed Peppers
One of the sad things about eating low-carb is that you can't really have sandwiches if you're doing it right. If you love sandwiches, this is a problem – unless you make these incredible Philly cheesesteak stuffed peppers.
Eat these and you won't even miss the sandwich. PROMISE!
NOTE: These stuffed peppers are versatile. Feel free to stuff them with steak, hamburger, ground turkey, or chicken.
Takes 20 minutes.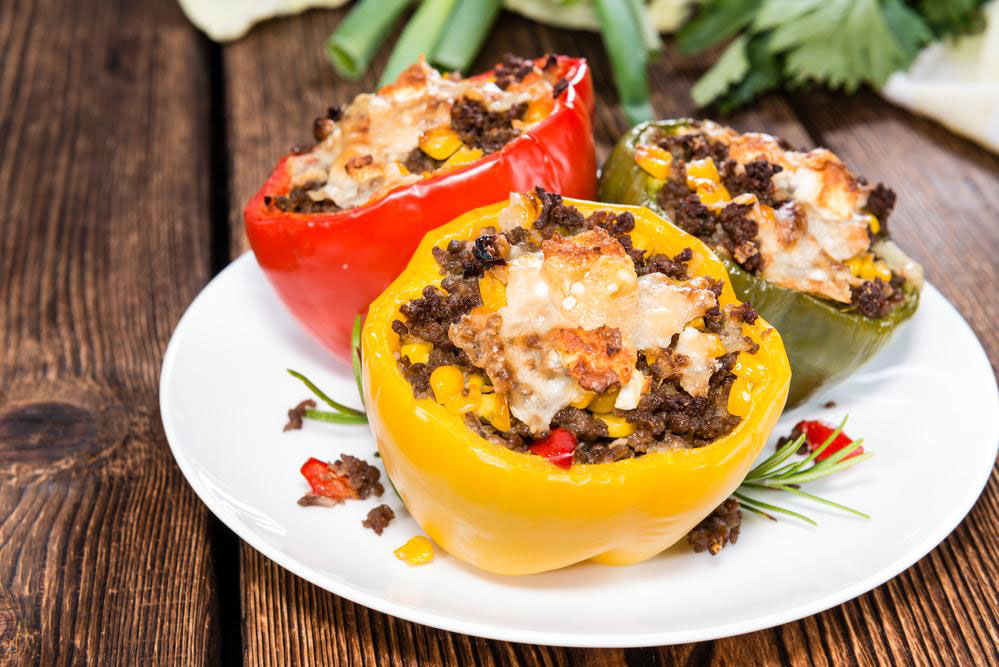 Ingredients
For the onions:
1 tbsp olive oil
2 large onions sliced about 1/2 thick
Salt
For the peppers:
6 Small Green bell peppers, halved and seeds/membranes removed
1 tbsp olive oil
1 lb beef top sirloin steak, sliced very thinly against the grain* (and large chunks of fat removed). Optional, sliced chicken, sliced turkey, or lean, ground meat.
2 cups cauliflower, cut into small florets
Salt
12 Oz provolone cheese, sliced
Instructions
Cut the peppers in half and scrape out the seeds and membranes. Place in a large pot and cover with water.
Bring the water to a boil and cook until the peppers just begin to soften, about 2-3 minutes.
While waiting, make your caramelized onions and saute your protein and cauliflower rice.
Drain the peppers and pat them dry. Then, fill the peppers with the mixture and then place them into a large baking pan. Cover them with cheese and bake them at 350 degrees for 10 minutes.
Broil for 2-4 minutes, until cheese is golden brown and bubbly.
Serve!
Recipe #3: Guilt-Free Mashed Potatoes, Meatballs, & Gravy
People don't just love mashed potatoes and gravy at Thanksgiving. This is comfort food you can eat all year long.
To make it keto friendly, just use cauliflower mash. You'll be done with this recipe in minutes. 😉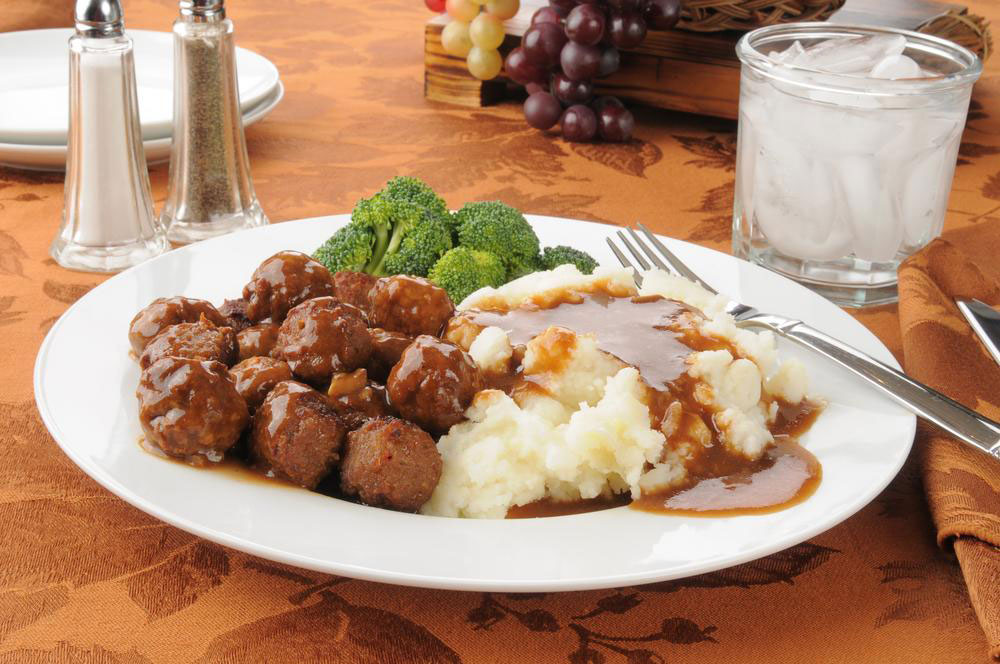 Ingredients:
For the cauliflower…
1 pound cauliflower, cut into small florets or riced
2 tablespoons butter
1 cup Parmesan cheese, grated
½ teaspoon avocado oil
salt and black pepper to taste
Optional: additional grated Parmesan cheese and parsley for garnish
For the meatballs
1 lb ground beef
1 clove garlic, minced
1 tsp onion powder
1 tsp garlic powder
1 egg, beaten
1 tbsp Dijon mustard
1 tsp Worcestershire sauce
2 tbsp avocado oil
For the gravy
2 tbsp butter
1 cup beef stock
½ cup heavy cream
1 tsp garlic powder
Salt and pepper, to taste
*cornstarch slurry (if the gravy is too watery)
Instructions
Bring water to a boil in the lower part of a steamer. Place cauliflower in the upper part and season with salt to taste. Steam the cauliflower until tender, about 7-10 minutes total.
Transfer steamed cauliflower (drain the water) to a food processor. Reserve about ¼th cup of the flower and set aside. Add the salt, black pepper, butter, Parmesan cheese and process until smooth. Transfer to a bowl and mix in the ¼th cup of cauliflower. Set aside.
For the meatballs: Combine all the ingredients for the meatballs in a large bowl. Mix together taking care not to over mix the meat. Form each meatball by hand doing so gently, about 2 inches in diameter.
Heat two tablespoons of avocado oil in a large skillet over medium heat. Add the meatballs to the skillet and cook for 8-10 minutes, rotating each ball, until cooked through and browned. Remove the meatballs from the pan, and set aside.
For the gravy: Add the butter to the exact same skillet the meatballs were in over medium-high heat. Once melted, add the beef stock, heavy cream, and garlic powder . Bring to a boil and reduce to a simmer. Simmer until the gravy has thickened (can coat the back of a spoon) about 5-7 minutes.
To serve add the cauliflower mash to a bowl. Place the meatballs on top and ladle the gravy on top. Garnish with parsley if desired. For your picky eaters, feel free to leave the meatballs separate from the mash.
Feel free to add another vegetable to the meal to round it out!
Recipe #4: Chicken Pot Pie Soup

Say name of this recipe to yourself. Doesn't it feel like a hug? Well, that's how we feel about it, and we guarantee you're going to love this traditional comfort soup no matter what time of year it is.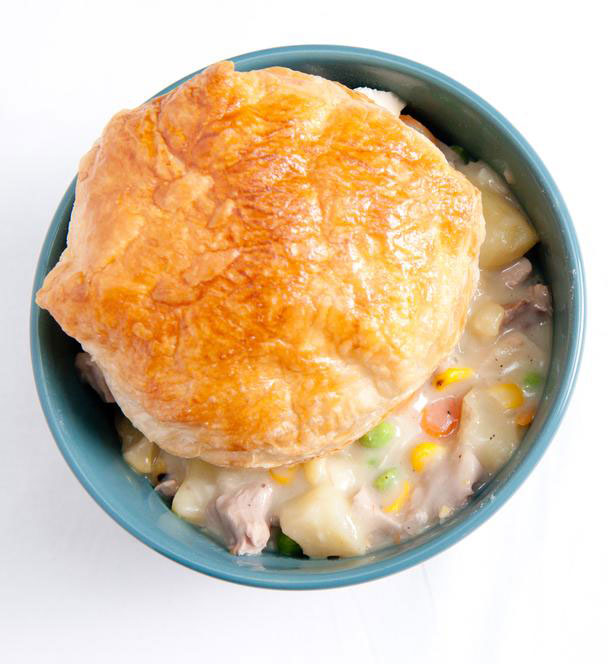 Ingredients
Olive oil
Boneless skinless chicken breasts
Onion
Carrots
Yukon gold potatoes
Garlic
Butter
Gluten-free flour
Chicken stock
Fresh thyme
Frozen peas
Fresh parsley
Heavy cream
Toasted bread
Instructions
Heat the olive oil in a large pot over medium heat.
Add the chicken and cook it until it's no longer pink on the outside.
Add the onion and cook it until it starts to soften. Add the carrots, potatoes, and garlic and stir it all together.
Add the butter to the pan, stirring until it's melted. Sprinkle with flour and stir.
Add the chicken stock, turn the heat to high and bring the soup to a boil.
Lower the heat and keep the soup at a constant simmer for twenty minutes.
Add the frozen peas, chopped parsley and continue simmering for another ten minutes.
Finish by adding the heavy cream and stir to combine.
Recipe #5: Stir Fry Zucchini Noodles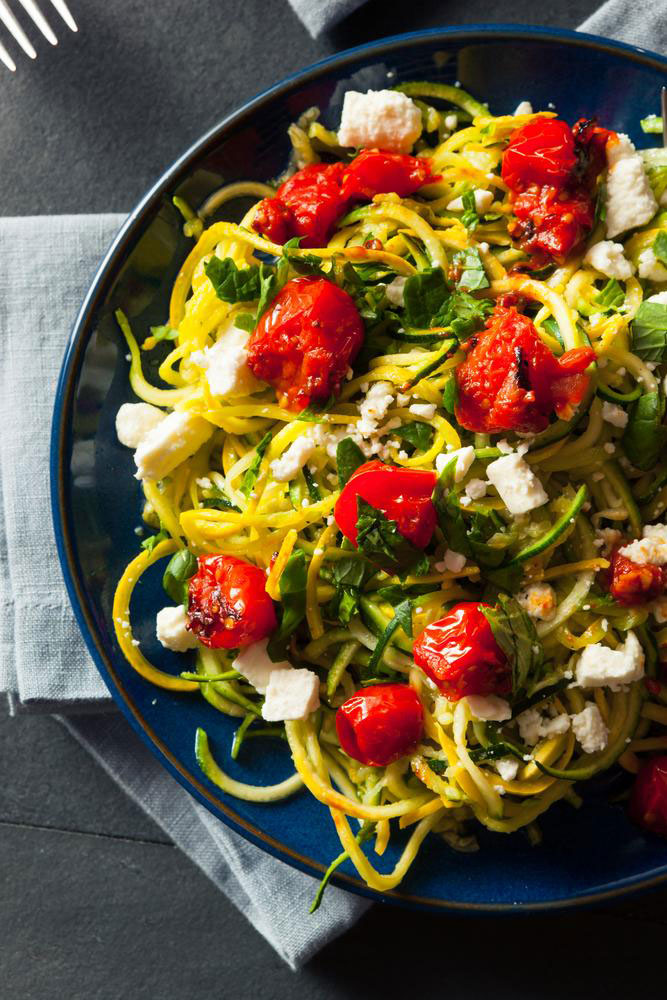 Most people love stir fry, using zucchini noodles as one of the best ways to make sure this dish is low carb, diet friendly, and easy on your waistline.
Added bonus: Kids love zoodles!
Ingredients
2 tablespoons vegetable oil
2 yellow onions, spiralized
4 small zucchini, spiralized, gently dried with paper towel
1 tbsp low sodium soy sauce (or coconut aminos if you're soy-free)
2 tbsp low sodium teriyaki sauce
1 tablespoon sesame seeds
Instructions
Heat oil in a wok over medium heat.
Add onions and cook for 4 to 5 minutes, or until translucent and tender.
Stir in zucchini and continue to cook for 2 minutes.
Add soy sauce, teriyaki sauce and sesame seeds; mix and continue to cook for 5 minutes, or until zucchini is tender.
Remove from heat.
Serve.
Any time we're short on time and want something yummy and healthy at the same time,
recipes like these are always right on time!
Try these, and let me know how the worked out for you and your family.
---